Newton Food Centre has long been regarded as a tourist spot, and though we were excited to see it featured in Crazy Rich Asians back in 2019, being in a Hollywood movie probably didn't help its case much. But that's not to say that it's without its share of yummy local grub, even if prices are a tad higher. With over 100 stalls to choose from, who should you make a beeline for? Here are some of our favourite stalls in Newton Food Centre!
1. Hup Kee Fried Oyster Omelette
Not sure about you, but I prefer my oyster omelettes to be more eggy than starchy, so Hup Kee hits all the right spots. They also cook their omelette (from $6) a little longer, resulting in a crispier exterior. The oysters kiss the hot skillet ever so slightly, so they're still plump, fresh and creamy. The blend of textures and flavours is simply swoon-worthy, and pair that with their homemade chilli you have a perfect bite right there. You'll have to queue during peak hours, but we promise you it will be worth every minute.
2. Guan Kee Grilled Seafood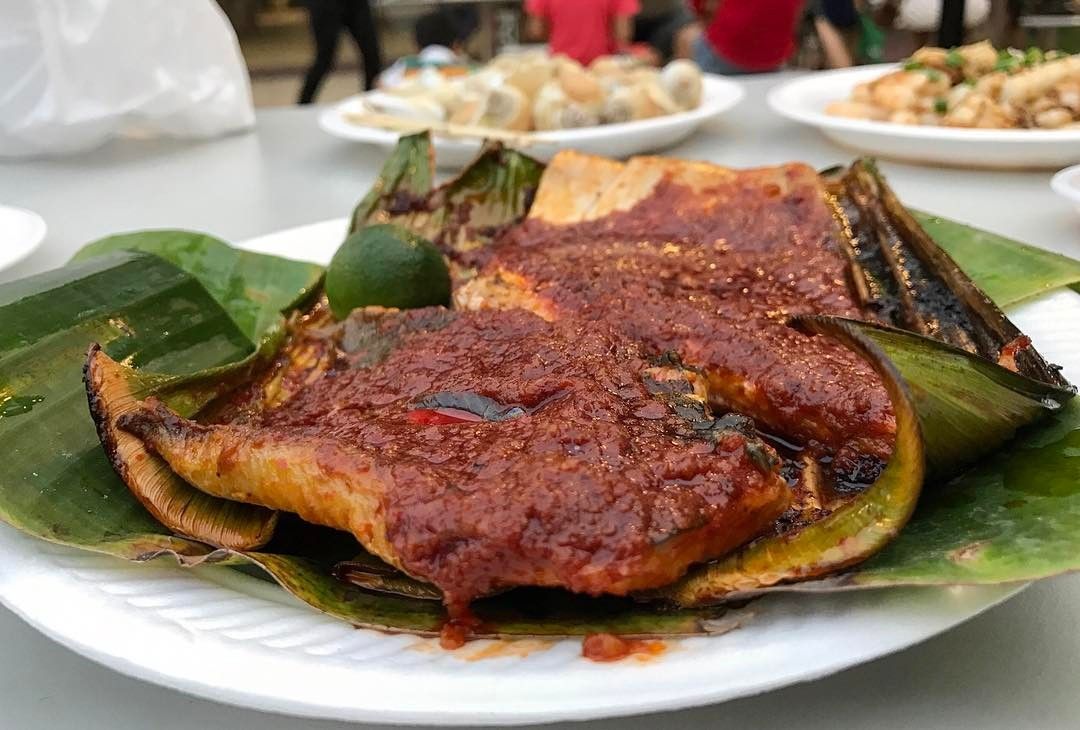 How can you visit Newton Food Centre without ordering some grilled seafood? Guan Kee is at the top of the game when it comes to sambal stingrays ($12/$15/$20). The sambal chilli here has just the right level of sting with a subtle smokiness, and the fish falls apart beautifully. On the side, the lime juice and cincalok cuts through the fire with a tartness.
3. Heng Carrot Cake
This Michelin Bib Gourmand stall has been serving up piping hot plates of carrot cake for half a century and are touted to have one of the best carrot cakes (from $4) here in Singapore. Their white carrot cake is well covered in fried eggy goodness, while its black counterpart has a nice hint of wok hei and is satisfyingly soft on the inside. Can't decide? Get the mixed plate so you have the best of both worlds.
4. Bee Heng Popiah
You'll rarely see popiah stalls make the list of 'must-eats' in hawker centres, but Bee Heng is one of the exceptions. Now run by the third generation, this grandfather of popiah stalls ($4.40 for two) has been around since the 1930s. Their turnip is cooked in seafood stock and still has a crunch when you bite into it, and it's wrapped in a papery thin skin with the rest of the filling such as egg and beansprouts. Make sure to pair it with some of their chilli!
5. TKR Chicken Wing & Satay
Chicken wings and satays are another must-have at local food centres. There are several stalls in Newton Food Centre, but one of the best is TKR! Their chicken wings ($1.40 each) and satays ($0.70/stick) are juicy, well-marinated, perfectly caramelized and charred. And as far as we know, they're the only stall in Singapore with prawn satay ($2/stick)! Best with some friends and ice cold beer or over a meal with some rice. Maybe skip the ketupat.