What is a trip across the causeway without some lok lok for supper? Don't you miss the good old times, sitting next to a food truck and demolishing skewer after skewer? While we eagerly watch for the news of the VTL to unfold, let's check out these lok lok stalls in Singapore. We might not be able to completely replicate the JB lok lok experience, but who wouldn't love some grilled, fried or boiled skewers of food?
1. DLLM Lok Lok
Everything at DLLM goes for just $1, and what makes it even more popular is that it's open until 4am! Folks also love their three dipping sauces – Salted Egg Yolk, Chinchalok and Thai Nam Jim – which pair perfectly with their skewers of cheese tofu, broccoli, grilled prawns and many more.
Address: 171 MacPherson Road, Singapore 348536
Opening hours: 6pm to 4am (Tues to Sun)
2. Dai Lou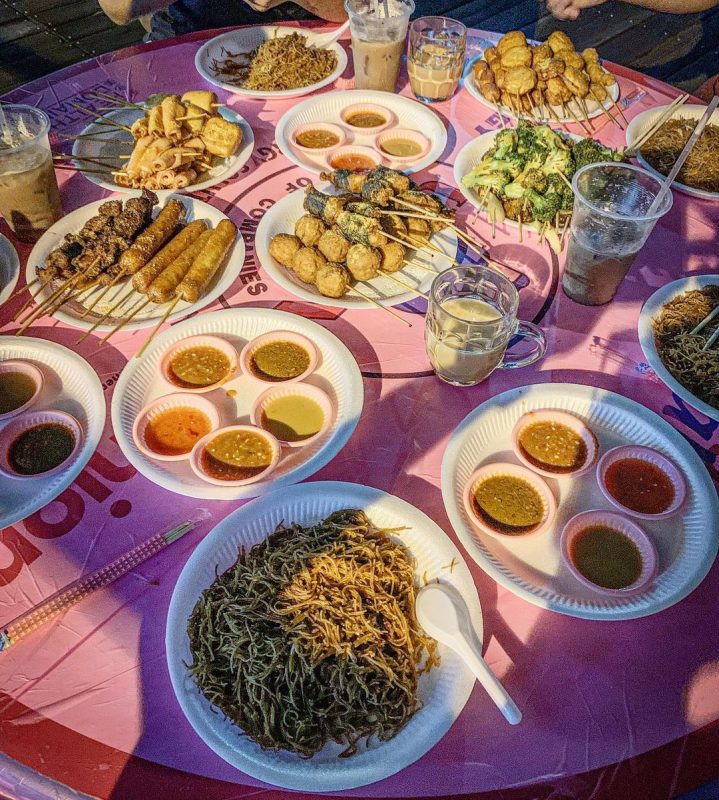 Dai Lou boasts of a waterfront location at Marina Country Club in Punggol. Prices here start from as low as $0.50 per skewer! Each one is also coloured at the end to indicate its price of either $0.50, $1, $1.50, or $2. Once you're done picking out your food, choose from four special sauces. All in all, Dai Lou is a great place to hang out for supper and some cold beers. They're open until 2am, just make sure to finish your beers way before that.
Address: 11 Northshore Drive, #01-0R, Marina Country Club, Singapore 828670
Opening hours: 12pm to 2am daily
3. Steamov (食尚捞)
We've all had conveyor belt sushi, but have you ever tried conveyor belt hotpot and lok lok? At Steamov, each diner has their own hotpot ($5) with a soup of their choice to cook their skewers in. Normal skewers are $1 while premium skewers are $3. They're also open all the way till 6am, so you can come by anytime to see their cute little trucks deliver skewers to your table.
Address: 325 New Bridge Rd, Singapore 088760
Opening hours: 11am to 6am daily
4. LOK不LOK
LOK不LOK provides a different lok lok experience in their bistro bar that's decked out in colourful neon lights. They serve more than 35 different types of lok lok here, all priced at $1 per skewer. We also love their signature dipping sauces that have options for both spice and non-spice lovers. Wash your supper down with some soju or beer!
Address: 401 Macpherson Rd, #01-21, Singapore 368125
Opening hours: 4pm to 12pm (Sun to Thurs), 4pm to 1am (Fri & Sat)
5. LokLok 1991's by Daniel & Meng
Another great supper spot for lok lok without breaking the bank, most skewers here go for $1! Loklok 1991's is also housed in a kopitiam in Ang Mo Kio with Mookata and Crab Maki as their neighbours, so this is a great spot to mix and match your supper and cater to different people, just in case you have that one friend who likes to spoil market. Add a beer or two (before 10.30pm) and you're good for the night!
Address: 340 Ang Mo Kio Ave 1, Singapore 560340
Opening hours: 6pm to 2am (Fri to Wed)