If you're Singaporean, then you're probably intimately acquainted with our national breakfast: the kaya toast. Usually served alongside half boiled eggs and a cup of kopi, this classic local breakfast is an oldie but goodie, dearly loved for its simplicity yet blend of toasty, savoury and sweet. Yet, there are also different variations of it. Some serve it extra toasted, some like it soft and fluffy. Some prefer the sweeter kaya with gula melaka, while others like the pandan-forward Hainanese kaya. No matter your preference, here are some kaya toasts in Singapore that we find to be rather spectacular!
1. Tong Ah Kopitiam
With a history dating back to 1939, Tong Ah Eating House is the place to go for a great kaya toast breakfast. Even though it's already moved out of the iconic corner of Keong Saik Road and into a few units further away, the food remains timeless. Get the Traditional Kaya Toast if you're a kaya toast purist, or French Toast with Kaya ($3.50) if you're in the mood for something a little different. Wash it all down with a cup of kopi gu you!
2. Heap Seng Leong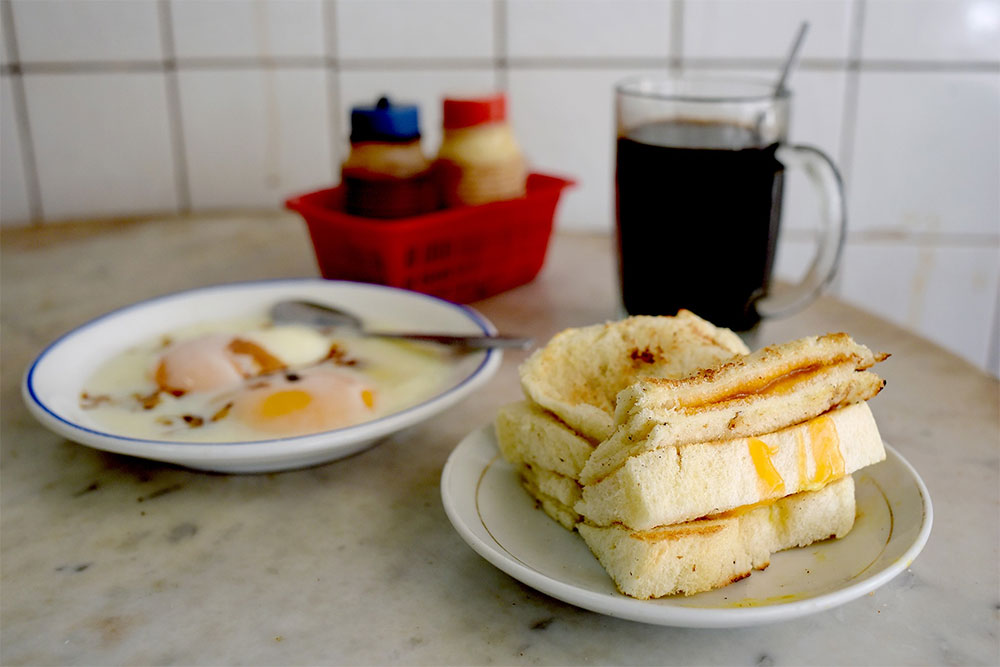 With its extremely old school setting, It's like time stood still at Heap Seng Leong. Everyone raves about their traditional kopi made with a coffee sock, but how's their kaya toast? Each serving is made fresh to order and they arrive warm, fluffy and lightly toasted with some fragrant sweet kaya. Best enjoyed with a quick dip into the soft boiled eggs!
3. Ah Seng (Hai Nam) Coffee
How many local coffee shops do you know that still toasts their bread over charcoal? This coffeeshop does, and you can see just how popular they are with the slew of media features! We say go straight for the Kaya French Toast ($3.00) served with aromatic pandan kaya. Not the healthiest breakfast, but it just might be the yummiest one.
4. Chin Mee Chin
Chin Mee Chin's closure three years ago left many of us heartbroken, but their recent reopening means we can once again stuff our faces with their super yummy kaya toast. Unlike other local coffee shops, Chin Mee Chin makes their kaya toast with a hamburger-type bun. A sweet, aromatic mix of handmade kaya is slathered on top, along with a generous slab of butter!
5. ​​Good Morning Nanyang Cafe
For a modern and creative take on the local kaya toast, try Good Morning Nanyang Cafe for their Orange Peel Ciabatta Kaya Toast. The zesty orange peel baked into the bread imparts a zesty fragrance which pairs like a dream with the kaya. We would prefer it with a bit more kaya, but that's just us nitpicking.