Singapore is a garden city, but it's easy to forget that when we're chained to our desks. Bringing some greenery or a piece of nature home is an easy way to remind ourselves to get out from time to time, but not everyone has the time or space to care for a potted plant. Enter terrariums. These adorable mini gardens are like a world of its own, with verdant greenery flourishing in beautiful glass containers and jars. Check out these terrarium workshops in Singapore that'll teach you how to build (and bring home) your very own mini garden!
1. InOut Atelier
Lacking green fingers? A terrarium is a good start as long as you have the proper care knowledge! With over a decade of terrarium building experience, InOut Atelier condenses it into a two-hour session that is easy to understand for all ages. So come and reconnect with nature through this fun-filled, interactive and educational terrarium workshop! You will create your own terrarium in a very aesthetically pleasing fae jar, and for an extra touch of personalization you can also bring along your own mini decorative figurines to add to your design.
2. The Plant Story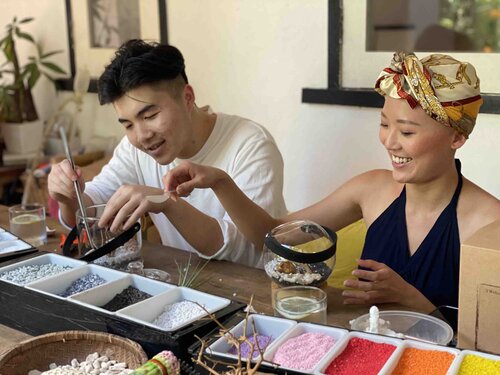 Aside from building regular terrariums using typical succulents, The Plant Story offers up a large variety of other plants that you can use to build sky, water,desert and rainforest terrariums. The Miniature Gardens Workshop is perfect for urbanites who are short on time and space, yet still want to be reminded by the beauty of nature. In this hands-on experience, you'll learn how to use plants like succulents, ferns and various cacti to create terrariums that are both aesthetically-pleasing and low-maintenance!
3. The Green Capsule
The Green Capsule has a variety of workshops from open terrarium, close terrarium, and even a preserved flower terrarium. But what really caught our eye is the Airplant Greenwall Workshop. Instead of creating your terrarium in little jars, you'll be building it on a square wooden frame instead! This makes for a statement piece on the wall, be it in the home or office. You have four different sizes to choose from, but we say go for the largest one so you can have a wider variety of plants!
4. Lush Glass Door
Lush Glass Door has a really wide variety of workshops to choose from, with different kinds of jars, plants and designs. Apart from the usual small classes, they also conduct couples workshops for you and your bae to create a shared masterpiece. The team is also able to conduct workshops for parties and corporate team buildings! Maybe bookmark this page so that you can return to it when large gatherings are allowed to resume again.
5. J2 Terrarium
Started by a couple with a passion and love for Mother Nature, J2 Terrarium is all about creating little pockets of nature in the concrete jungle. Get hands on in their workshops that cater to various age groups, from the young to old. Their Terrarium Workshop will teach you the basics of creating a landscape with living plants, one that you can bring home and keep indoors. Not to mention it makes for a great bonding activity be it between family or friends!