Whether you're renting, purchasing a new home or renovating, your excitement probably died now a little when you realized just how much furniture in Singapore can cost. Yeah, Taobao is great when it comes to cheap buys, but not everyone is fluent in Mandarin. And worse – sometimes the products just don't turn out like the photos online, and you have no way of returning them!
Thankfully, there are furniture stores in Singapore that are not only affordable, some of them also have a return policy, and showrooms so you can see what the items look like IRL! Without further ado, here are six affordable furniture stores in Singapore to score cheap buys.
1. Furniture SG
FurnitureSG was born to bring comfort into your home by offering 'taste' at the lowest prices in town. No matter if you are looking for a TV cabinet, dining table, wardrobes, office tables, sofas, bed frames or mattresses… You name it, FurnitureSG will have the deal you've been looking for. To be fair, the designs of the furniture are not much to rave about, but they do have a huge selection so you'll definitely be able to score some gems if you have the time to look through their extensive catalogue. They also do not have a showroom and there are limited descriptions on their products, so sometimes the actual products may vary slightly from the photos. Enjoy free delivery and installation for orders above $80!
2. Castlery
Castlery creates affordable designs for the modern home. Instead of getting their products from manufacturers like some furniture stores in Singapore, Castlery actually works with designers to produce their own products. Designs feature a fusion of unique styles – from mid-century modern to contemporary. So if you're envisioning a Scandinavian, modern, or industrial feel for your home, Castlery will be right up your alley. Prices are affordable, but not dirt cheap. And their furniture is made to be hardy so they will last you a long time! To see their products IRL, you can visit their studio at Jit Poh Building. Delivery is free for orders above $300.
3. FortyTwo
FortyTwo is the largest homegrown e-furniture site in Singapore. With over 20,000 items across furniture and accessories including sofa sets, bed frames, mattresses and rugs, FortyTwo is a great platform for all things furniture and more! With an extensive catalogue, there's something for every type of homeowner. Make sure you check out their sale section – there are great deals and you can totally style an entire room with items listed there. Enjoy free delivery with orders over $300. Plus, FortyTwo offers a price-match guarantee and a 100-day return policy, so you can rest assured and shop away.
4. IKEA
We can't have an article about affordable furniture and not mention IKEA. The Swedish megastore is sure to come up in every conversation about furniture shopping. They need no introduction, since many of us have grown up walking through its beautiful showrooms and 'testing' its beds and sofas. And chances are, you have at least one piece of IKEA furniture sitting in your current home. No matter if you're looking for a rug or storage solutions, shopping at IKEA is extremely convenient. You can also arrange to have your furniture delivered to you in as quickly as two days! Delivery for the online store is $70, but if you shop at the physical stores, delivery charges are $55.
5. HipVan
Another popular online furniture store is HipVan, which sells affordable designer furniture. Like Castlery and FortyTwo, prices are not exactly dirt cheap but they offer great value for the quality and designs you get. For the cheapest deals, head to the Deals section – here you can score items that are on clearance, or stocks that were previously used for displays. Prices are slashed to as low as 70% off! You can also see their products at their Experience Store at Suntec City Mall Tower 3. Enjoy free delivery on all orders above $250. And with a 100-day easy return policy, you return your purchase within 100 days of the date you received the item with no questions asked.
6. Hock Siong & Co.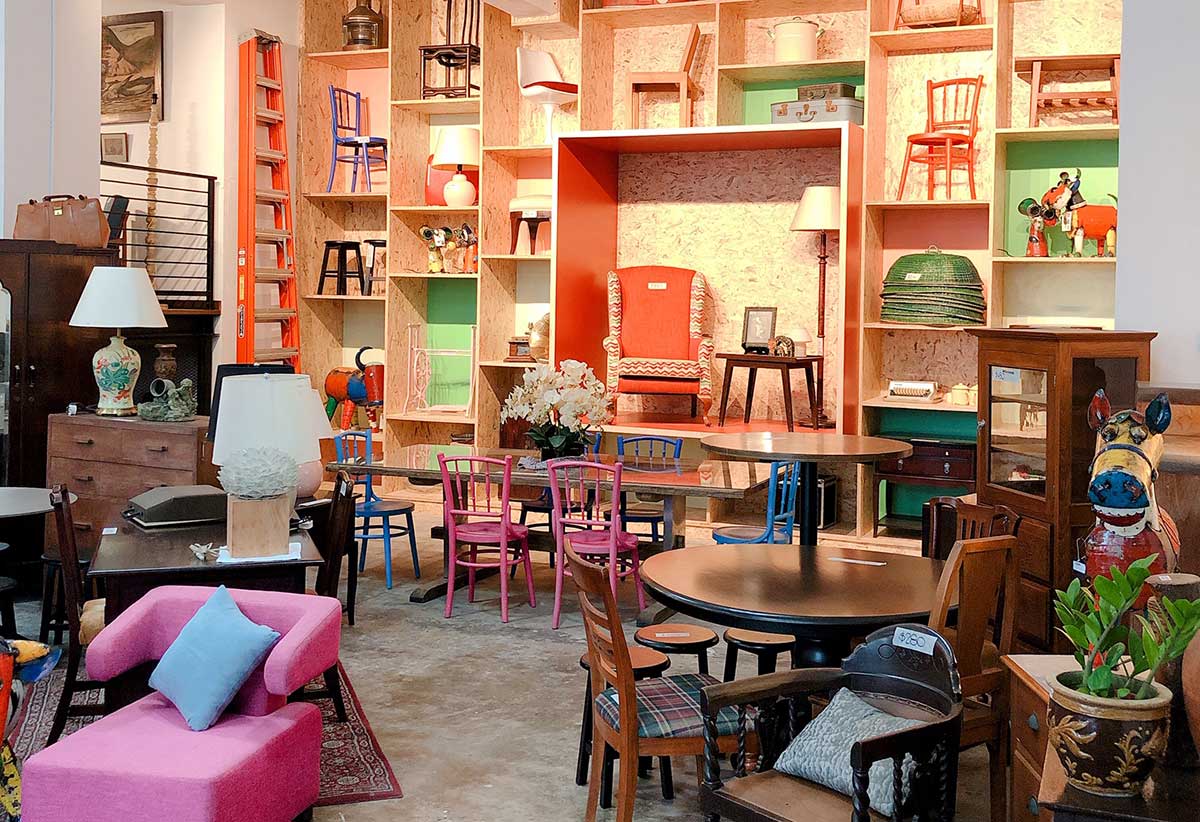 For furniture with a history and character, Hock Siong & Co. is the place to score secondhand furniture and antiques at a great price. The business was started by a family of karang guni traders who decided to start a business out of the items they came across. It goes without saying that there's no catalogue and no saying what you'll find, but that's part of the fun. Typically, you can find five-star hotel furniture, hand-me-downs from show flats, refurbished pieces and knick knacks. Visit them at their store in Junjie Industrial Building or make your purchases online!