Singapore is a foodie paradise, with restaurants, cafes and dining spots for all sorts of taste buds and lifestyle choices. Yes, that means for vegans and vegetarians too! There's much more to a plant-based diet than just salads and leafy greens, and these restaurants prove it with their yummy meat-free menus. There are even different types of cuisines, from Japanese to Korean, Indonesian and Peranakan, here are the top eight vegan and vegetarian restaurants in Singapore!
1. Green Common
Green Common is a one-stop plant-based eatery and marketplace in Vivocity. Invented by foodtechs with computer algorithms to analyze different plant species for formulas of more delicious and sustainable sources of protein, a meal here is just as protein-packed as real chicken or beef except with no cholesterol, less saturated fat and made from non-GMO, organic ingredients. Vegan food is far from boring here with appetizers such as Omni Musubi ($9) that looks just like an unagi sushi, and the Protein Booster ($15) main that's loaded with tempeh, Heura chicken and edamame on soba noodles.
Address: VivoCity, 1 HarbourFront Walk, #01-169/170, 098585
2. Whole Earth
Serving Thai-Peranakan meat-free dishes, Whole Earth is a Bib Gourmand recipient and one of the most well known vegetarian restaurants in Singapore. Make sure to bring some company as the portions are big enough to share – think tze char but make it vegetarian. Must-trys include the Nonya Curry ($21) served with potatoes and minced mushrooms that resemble meatballs, Penang Rendang ($22) consisting shiitake mushroom cooked with Peranakan herbs and spices, and of course the crowd favourite, Olive Rice ($10)
Address: 76 Peck Seah St, Singapore 079331
3. The Kind Bowl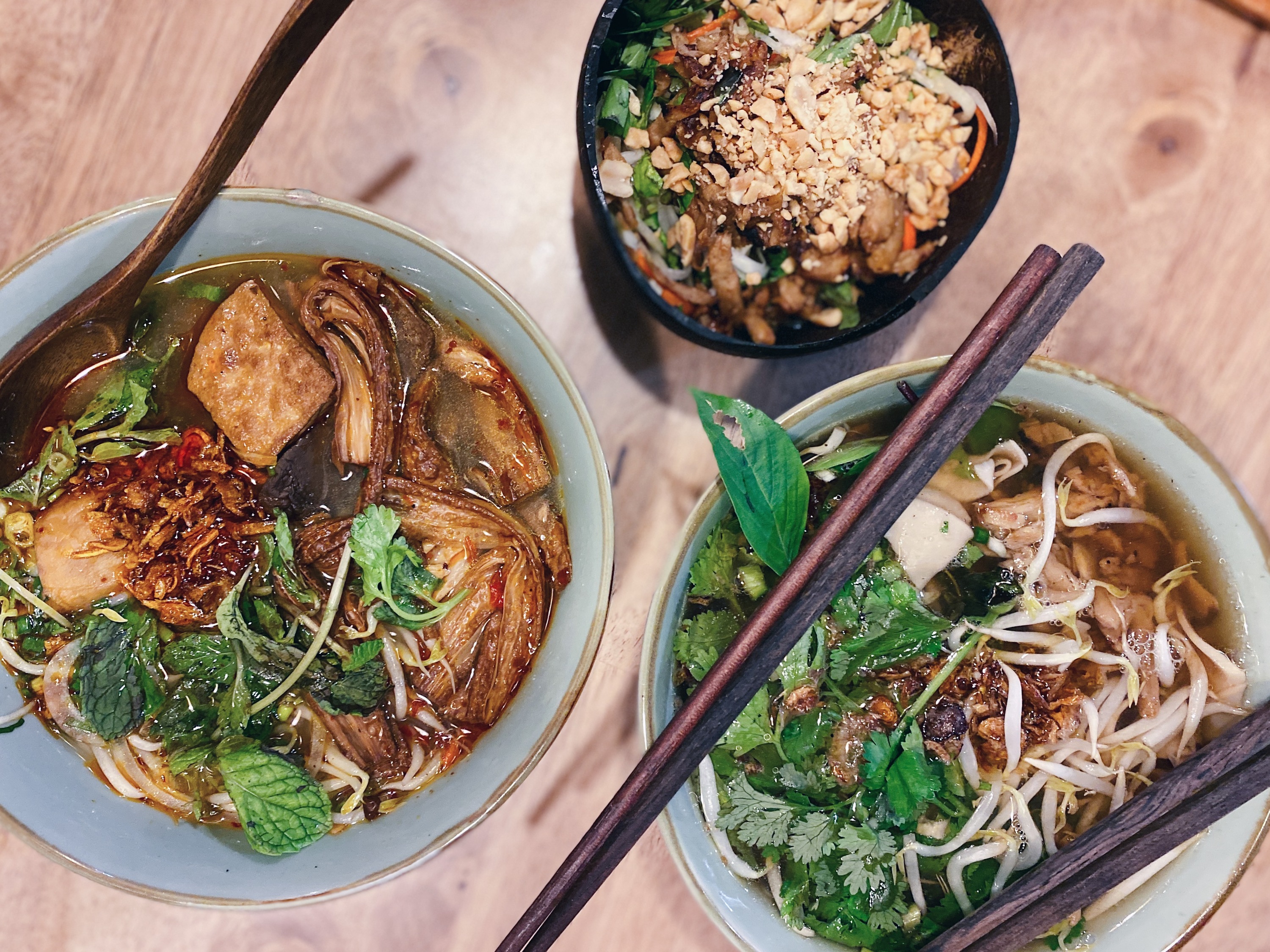 The Kind Bowl specializes in meat-free Vietnamese dishes that's kind for the body and the earth. The restaurant uses ​​100% wholesome plant-based ingredients to create its menu of rice bowls, soup noodles, banh mi, and sides. Try The Kind Pho ($10.80), a hearty bowl of umami broth served with silky flat rice noodles, shredded marinated 'no chicken' seitan, sweet frizzled grilled oyster mushrooms, sprouts, fresh herbs and lime. For a quick grab and go meal, the Crazy Baguette ($9.80) will hit the right spot with crunchy pickles, grilled "no pork" seitan, piled high on a fresh baguette topped with fresh herbs, mushroom pâté and homemade sriracha mayo.
Address: 71 Killiney Rd, Singapore 239527
4. The Vegetarian Butcher
The Vegetarian Butcher might not sound like it makes much sense, but it's all about having meat enthusiasts experience vegetarian meat products and to realise they don't have to miss out on anything even if they leave animal meat out of their diet for a couple of days a week. Founded in 2010 by ninth-generation Dutch farmer Jaap Korteweg, the brand is now available in The Social Kitchen, where vegetarians and curious meat-eaters can try out dishes such as NoChicken Nuggets and Waffles ($8), Fiery Mala NoMeatball Pasta ($13) and NoBeef Rendang Shepherd's Pie ($12).
Address: 2 Jurong Hill, Singapore 628925
5. Veganburg
Before Impossible Burgers and Beyond Burgers were a thing, VeganBurg was already in the scene. It has completely redefined food pop culture and comfort food with its 100% plant based menu. A visit to VeganBurg is a full sensory experience, from seeing the raw industrial safari-themed interior design, smelling the aroma of the food, hearing the crackle of pan-grilled goodness, to tasting the perfect combination of fiber-fueled bun, farm fresh greens, GMO free patty and gourmet sauce. Take your pick from eight different burgers and seasonal offerings, and make it a meal with some seaweed fries or grilled broccoli!
Address: 44 Jln Eunos, Singapore 419502
6. The Boneless Kitchen
Love the idea of going vegetarian but can't ditch Korean food? You'll be surprised by The Boneless Kitchen, where Korean cuisine tastes great even without meat. Everything on the menu is vegetarian, and all the dishes can be modified if you're on a vegan diet. You won't go wrong with the Budae Jjigae ($9.90), a comforting bowl of army stew with enoki mushrooms, tteokbokki, mock meat, ramen and more. Or get the crowd favourite, Jajangmyeon ($10.90) and Dolsot Bibimbap ($9.90).
Address: 1 Irving Pl, #01-31 Commerze @ Irving, Singapore 369546
7. Herbivore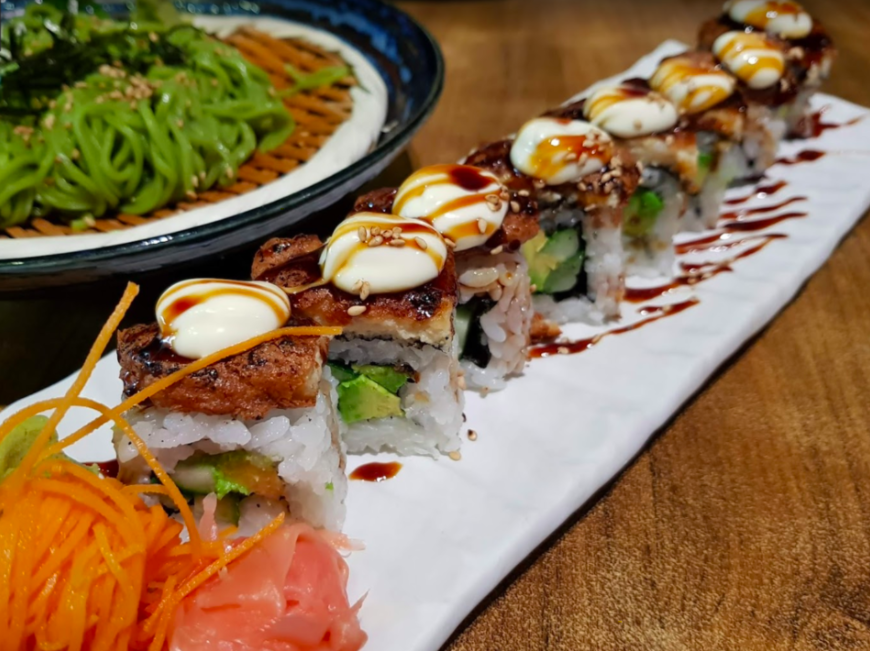 For some vegetarian Japanese fare, head over to Herbivore, where you can get more than just vegetarian ramen or cucumber sushi rolls. Its menu includes items like salmon sashimi, teriyaki chicken and unagi, none of which contains meat! Granted, it will not taste like the real thing, but we still love the idea of being able to get Japanese vegetarian meals in Singapore. You'll be spoilt for choice here with their extensive menu and be pleasantly surprised by dishes such as Shiitake Maki ($14) and Katsu Curry Set ($18).
Address: 190 Middle Rd, #01-13/14 Fortune Centre, Singapore 188979
8. Warung Ijo

Tuck into Indonesian vegetarian fare at Warung Ijo. If you're here for a quick lunch, try crowd favourites like the Nasi Padang ($11.90), Rendang Fried Rice (S$9.90), and Bakmi Ayam ($8.90). If you're here with friends, then get some dishes to share such as the Gulai Fish ($15.90), Sambal King ($10.90), and Ayam Penyet ($12.90) which will make meat eaters salivate too.
Address: 337 Beach Rd, Singapore 199565