The east gets lots of credit for housing hipster cafes, but westsiders have few reasons to make the long trip there. Jurong has its own fair share of cafes for coffee, yummy bites and ice cream, and here are a few that are worth checking out!
1. Time Table Cafe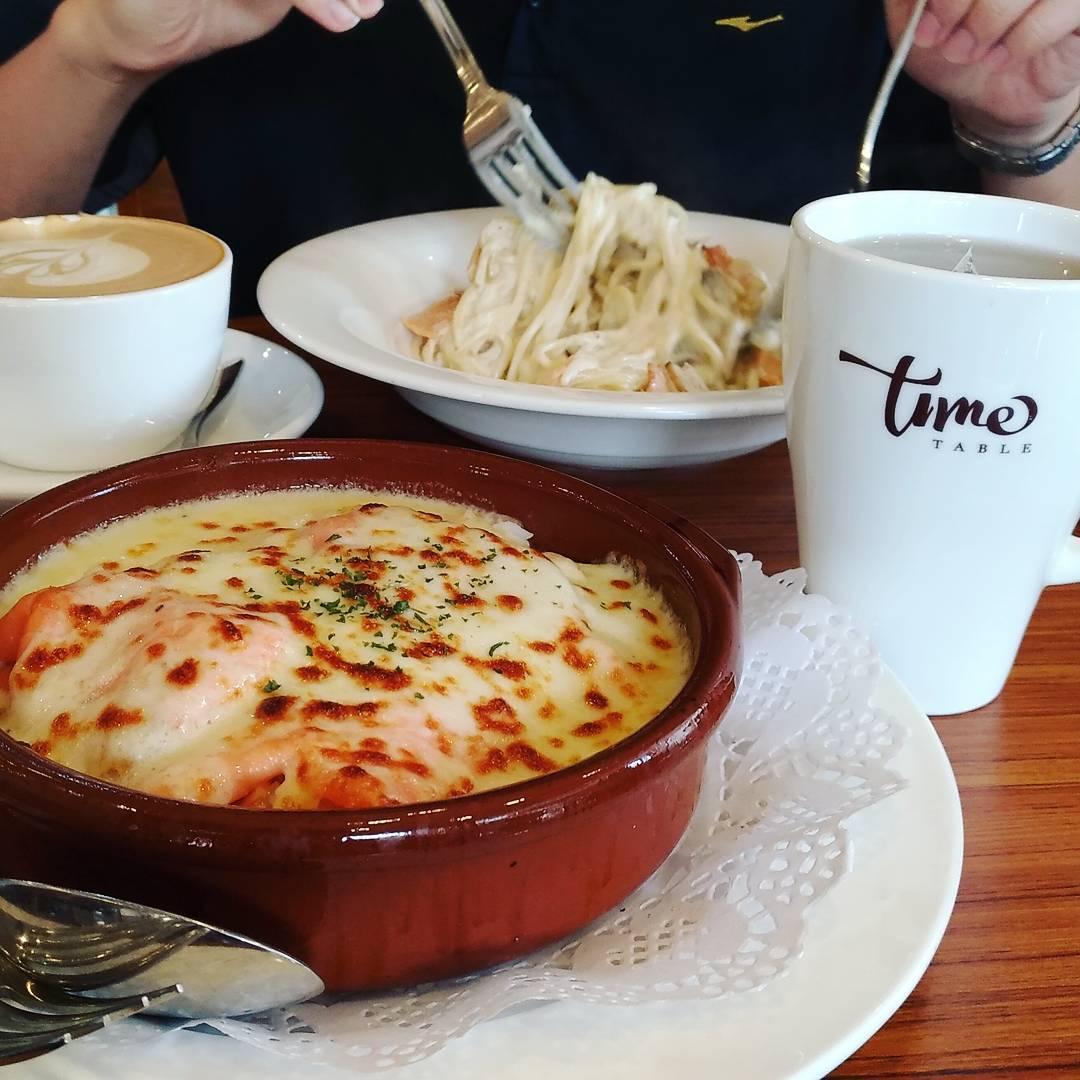 Time Table Cafe has free WiFi, power points and wallet friendly prices, making it a great spot for westies working from home. On the menu you'll find pasta dishes, pizza, waffles and more. Tuck into hearty mains such as Smoked Salmon Baked Rice ($6.90) or Mushroom Aglio Olio ($6.90). If you're giving in to your sweet tooth, get the waffle with a scoop of ice cream ($6.80) or yogurt and fruits ($8.90) for a less sinful choice.
Address: Blk 456 Jurong West St 41, #01-726, Singapore 640456
Opening hours: 11.30am to 10.30pm daily
2. Suzuki Coffee
Get a small piece of Japan in Jurong at Suzuki Coffee. The interior ​is inspired by traditional Japanese tea houses, and drinks are made with high-quality Hokkaido milk and freshly roasted coffee beans. Make sure to also try their authentic anpan which is from an old Wagashi shop in Hokkaido! The dessert matches perfectly with Suzuki's beans, and it is carefully hand-made by experienced Japanese bakers.
Address: 8 Chin Bee Ave, Singapore 619932
Opening hours: 10am to 5pm (Tue to Fri), 10am to 4pm (Sat & Sun)
3. Smoocht Pantry
Smoocht was borne out of Brownice, Singapore's first vegan ice cream joint. For dairy-free, eggless, plant based food and desserts, this is where you wanna be! We love their Fresh Mushroom Soup ($7.20), made from three kinds of mushrooms as well as nut cheese and bonsoy, giving the soup a light nutty taste. Other popular items include their Classic Cong You Pancake ($8) and Sesame Citrus Soba ($9.50). And of course, you cannot leave without at least a scoop of their guilt-free ice cream. Whoever said that vegan food is boring has clearly never been to Smoocht!
Address: 319 Jurong East Street 31, #01-58, Singapore 600319
Opening hours: 12pm to 9pm (Sun to Thurs), 12pm - 9.30 pm (Fri & Sat)
4. Nunsaram Korean Dessert Cafe
Nunsaram stands for 'snowman' in Korean, and this shop selling bingsu is very aptly named. This Korean dessert cafe is in Westgate and they serve up authentic bingsu with the option to add on ice cream! If you're not in the mood for bingsu, Nunsaram also has a side menu for food such as tteokbokki, kimbap and Injeolmi toast.
Address: Westgate, 3 Gateway Drive, #04-37/K4, Singapore 608532
Opening hours: 10am to 10pm daily
5. Pang Zi Durian
Craving for durian but it's not durian season? Head over to Pang Zi Durian for all things durian-related. Think desserts like durian puff, durian mousse, durian mochi, MSW Ice Cream and about 30 other flavors as well! Everything is made fresh and from scratch. During durian season, you can also pop by to purchase different varieties of durian, from MSW to Golden Phoenix, D13 and Red Prawn.
Address: 492 Jurong West Street 41, #01-18, Singapore 640492
Opening hours: 12pm - 10pm daily