From dining in darkness to feasting in the company of thousands of sea creatures, dining experiences are no longer confined to traditional restaurant settings anymore. Here are some of the most unique dining experiences in Singapore!
1. Royal Albatross
Be it a romantic date or a special celebration with family and friends, this sunset dinner cruise is set to take you on a memorable journey to cherish and capture unforgettable moments on board Singapore's only luxury tall ship. Royal Albatross City Lights dinner cruise is perfect for couples and small groups who are looking for unique experiences and appreciate an amazing ambience under a canopy of sails.
2. Marguerite
Marguerite sits within a stunning garden space within the Flower Dome at Gardens by the Bay, allowed it to bring the outdoors, indoors. Chef-owner Michael Wilson embraces the best of the seasons with tasting menus that celebrate craft, provenance and produce through contemporary cuisine. To complement the food is a specially curated list of wines from across the world, as well as a non-alcoholic beverage program of clarified juices and fermented teas!
3. Kafe UTU
Kafe UTU is Singapore's uniquely African cafe and lounge celebrating the diverse flavors and dishes from a vast and culinary exciting continent. The owner of Kafe UTU, Mr Curt Wagner spent much of his childhood living in different African countries including Liberia, South Sudan and Kenya, and he has brought the colors, textures and rich flavors of his African experience to singapore.
4. Cable Car Sky Dining
One of the most exciting ways to pop the question, celebrate a special occasion or just show some love to your significant other is with a four-course meal in a private cable car cabin. Cosy up to each other as you gaze at the glittering city lights below, sip on wine and tuck into a menu of posh eats.
5. Ocean Restaurant
Be prepared to have your breath taken away ​​at Ocean Restaurant, Southeast Asia's only underwater dining experience! You'll be wowed not just by the giant manta rays and majestic sharks swimming around, but also by the incredible ingredients on the menu. All the produce here are harvested using methods that respect the environment, so when you dine here you are also leaving the ocean in a better place!
6. NOX – Dine in the Dark
Take a plunge into NOX, Singapore's most unique dining experience and an intriguing world of mystery and sensation. Go on a culinary journey through taste, smell, touch and sound, in total darkness! Seated in the pitch black dining room you will enjoy an exclusive mystery menu crafted from the finest ingredients. Did we also mention that you'll be served by blind and visually impared hosts? How does it feel to have the roles reversed?
7. Restaurant Absurdities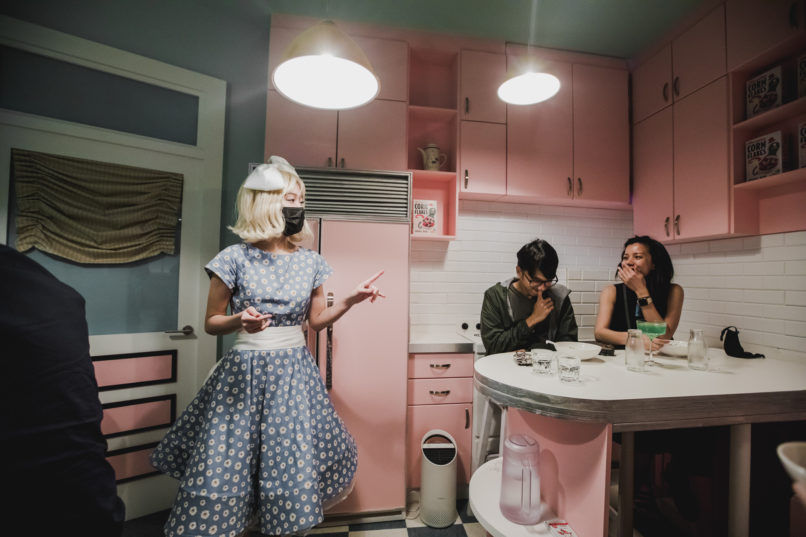 You might've heard of ANDSOFORTH, Asia's largest immersive dining company, where storytelling, dining and entertainment all comes together in one experience. Their Restaurant Absurdities comprises multiple rooms tucked away in a hidden venue, each holding a pocket world of its own, as you 'travel' through time and across various 'countries' over the span of a single dinner!